2015 – PREVALENZA DEI FATTORI DI VIRULENZA ASSOCIATI A E. COLI ISOLATI DA SUINI CON DIARREA POST SVEZZAMENTO (PWD) IN ITALIA
---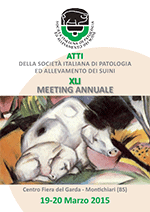 GIBELLINI M., BONILAURI P., GHERPELLI Y., GIOVANARDI D., MARZANI K., TORRI D., DOTTORI M., FERRO P., SCANDURRA S., MAIOLI G., HIDALGO A., LUPPI A.
Parole chiave: PWD, ETEC, diarrea, F4, F18
From 2012 to 2014, 159 E. coli isolates were obtained from diagnostic samples (rectal swabs, faeces and small intestine) collected from pigs with post weaning diarrhoea (PWD), belonging to 84 herds located in Northern Italy, using standardized bacteriological methods. To evaluate the prevalence of virulence factors, a multiplex PCR (Casey and Bosworth, 2009) for f4 (K88), f5 (K99), f6 (987P), f18, f41, STa, STb, LT and Stx2e genes was performed on E. coli isolates. The prevalence of imbriae genes was: F4 (54,8%), f18 (33,3%) and f6 (1,2%). In 5 cases, the strains isolated harboured more than one imbrial gene: F4+F18 (4,8%) and F5+F41 (1,2%). The prevalence of toxin genes was: LT (55,9%), STa (63,1%), STb (71,4%) and STx2e (9.5%). ETEC isolates were detected in 68 of the herds (80.9%), with 98.8% of them being haemolytic. ETEC-f4 were isolated in 57,6% of the outbreaks (39 out of 68), whilst 36,8% (25 out of 68) were classiied as ETEC-F18. The two most common ETEC virotypes were F4, STb, LT (25%) and f4, STa, STb, LT (22,1%). This study conirms that ETEC-F4 is most commonly associated with PWD in Italy and the most prevalent virotype was f4, STb, LT. Information about the prevalence of ETEC in cases of PWD is relevant when measures of control of the disease such as vaccination must be taken. Alternative approaches to antibiotic therapy are needed, since very high rates of antimicrobial resistance are reported in ETEC isolated from cases of PWD.