2021 – CARATTERIZZAZIONE DEI VIRUS INFLUENZALI DI TIPO A ISOLATI DA EPISODI DI INFLUENZA IN ALLEVAMENTI SUINI DEL NORD – ITALIA NEGLI ANNI 2017-2020
---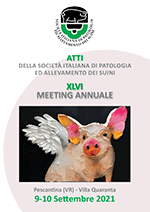 CHIAPPONI C., PROSPERI A., MORENO A., FACCINI S., ALBORALI G.L., BAIONI L., GABBI V., MANFREDI R., TORREGGIANI C., LUPPI A.
Parole chiave: Virus influenza tipo A, suino
Swine IAVs of H1N1, H3N2 and H1N2 subtypes are enzootic in pigs globally, with regionally genetic and antigenic differences. During 2017-2020, 6355 swine IAV outbreaks involving 1448 farms in Northern Italy have been confirmed by RT-PCR for M gene. 666 IAV positive samples were further subtyped by multiplex RT-PCR. 409 positive samples were genetically characterized by full genome sequencing, assigning each virus to its lineage and genotype. The farm prevalence of the different subtypes was: H1N1 40.6% (36.1% H1avN1 and 4.5% H1N1pdm09), 45.7% H1N2 and 12.6% H3N2. In 6 farms (0.9%), two strains co-circulating in the same outbreak were detected. The genetic characterization of the sequenced strains showed that the H1N1 subtypes were of avian-like origin (83,5%) and H1N1pdm09 (13,3%), with a little percentage of reassortant strains (internal genes of pdm09 origin). The H1N2 subtype was the most variable with the circulation of 13 genotypes. The Italian H1N2 (hulike) was detected in 42,3% of the samples, but in the 57,7% of the detected cases viruses were reassortant H1N2 (pdm09 and av-like internal genes). The H3N2 was confirmed as a stable subtype. In the last three years high genetic variability was observed in the swine IAVs circulating in Italy. The importance of IAV monitoring is enhanced by the economic impact of swine Influenza in the Porcine Respiratory Disease Complex, but also considering the pig's role as a mixing vessel, generating potentially zoonotic viruses.