2022 – EFFETTI POSITIVI DEI BETA GLUCANI DA ALGHE SULLA REPLICAZIONE VIRALE DI PRRSV E ASFV NEI MACROFAGI ALVEOLARI POLMONARI (PAM)
---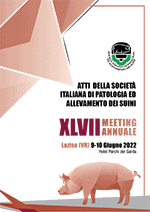 MATTUZZI S., DE LEON A., VAN HAMME V., NETO R., KIRWAN S.; TAN J., NGUYEN T., THANH H., VU HOANG D.
Parole chiave: suinetti, Peste suina africana (PSA), PRRS, antivirali, BetaGlucani
PRRS and ASF cause huge economic impact for pig producers worldwide and there is a need for additional tools to help control them. Two studies were done to determine the effect of Algal Beta Glucan in the replication of PRRSv and ASFv in PAM cells. Both studies used an in vitro macrophage model, as the virus is macrophage trophic. In the PRRS study, PAM cells were incubated for 1 hour with Algal Beta Glucan at a rate of 0.1, 1, and 10 μm/mL and then challenged with PRRSV strain MN184. The supernatant was collected at different time points (0, 12, 24, and 36 hours after infection) for the determination of viral growth by qRT-PCR. The results showed that the highest concentration of Algal Beta Glucan provided the most reduction in 24 hours and response was dose-dependent. In the ASF study, PAM cells were incubated at different times (15, 30, 60, and 120 mins) and concentrations of Algal Beta Glucan of 10 and 20 μm/mL before being challenged with 106 HAD50/ml ASFv Ha Nam strain. The supernatant was collected at different time points (30 sec, 24h, 48h, 72h, 96h, and 120h) after virus exposure for RT-PCR using OIE protocol. The overall results show suppression of PRRS viral growth as low as 0.1 μm/mL dilution of algae beta-glucan and that 50 μm/mL of Algal Beta Glucan had a significant decrease (P<0.05) of Cq value at 24 hours after ASFv exposure in both 1 and 2 hours incubation. These studies have shown the potential effects of algal beta-1,3 glucans on inhibiting or reducing ASFV and PRRS infection in PAM cells.